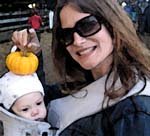 I'm pleased to present my complete downloadable handbook called The Simple Truth on Curing Depression: What Do The Medical Journals Reveal On Curing Depression? It is based on my popular intro e-course, but expanded to provide added strategies and extra detail to help you to get the most out of each tip along with notes and video messages from doctors and other researchers.
I hope you like the book and find it to be a new lease on life as it has with other readers. It's all my research that I applied to beat depression and get out of the dark tunnel.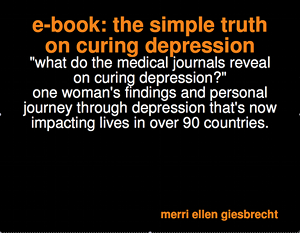 Get A Copy And Get Started Today
The e-book includes...
Chapter 1
Key Ingredient #1 is the MOST UNDERRATED ingredient and adored in the end because of the effects.
Chapter 2
Key Ingredient #2: After 23 years of being bipolar, just 2 weeks on this supplement cured one woman forever
Chapter 3
Key Ingredient #3: Results in less than a week
Chapter 4
Key Ingredient #4: Learn how our thoughts have the potential to destroy or repair our mood
Chapter 5
Key Ingredient #5: The more you cut yourself off from others, the more depressed you become. Learn how to reverse this powerful ingredient
Chapter 6
Key Ingredient #6: If you don't get ample sleep, you feed your depression. Learn the power of a good night sleep and how to get one.
Bonus Ingredient #7
Learn what some psychologists suggest is the reason for 95% of depression illness.
BONUS:
The Happy Checklist
Goal Setting
Free Download Listing
Workbook
Daily Tracking Form
And more...
APPENDIX:
Support Group Reference Listing
I continue to daily use every tip covered in the book and have been depression free since 2002.
When you have finished reading it please share your feedback (you'll find the special link inside it!). Thanks!
Download the handbook here. The instructions are spelled out in plain English so you can start today.
Your proceeds go to the maintenance of this website which is a labour of love and to further spread hope. I absolutely enjoy hearing of lives being changed all over the world- so it's worth it! Thanks for your part in passing on some hope and taking a bit of hope yourself.
There is hope! You are worth it!
Grab Your Copy and Get Started Towards Beating Your Depression
"Thank you for this! I had been on most of the antidepressants over the past 30 years and had a severe reaction. I have been off meds now for 5 weeks... I feel better now than I ever did on the meds. Take care, Anne"
"As a licensed clinical social worker and a woman with a life-time history of depression, I really commend you the work you have done on this site. I especially appreciate that you are promoting discussion on the positive benefits of a natural approach to treating depression." -Robyn
"I am currently battling day to day with mild depression and decided to search for natural cures for it. I'm glad I found your site and I want to say thanks for sharing your story and for building a great website. Keep it up!!" - Dominic
"Thank you so much... I have suffered with depression several years, and right now I am not taking any medication at all!" - Mary
"I just want to thank you. These tips have really changed my life in less than a month. I honestly believe that God has brought this website over my path for recovery. The work you done is wonderful and a true inspiration. If I think where I was a few weeks back, I can't believe I am out of that hole. God will bless you for this wonderful work you are doing. You have inspired me so. Thanks again." –Ada
A year later…
"Congrats on your book, you are a real star. It is now a year later since I have discovered your website and its going better than ever, thanks to your techniques... I must admit that the coffin on my depression is closed as I don't even have to use 5 HTP anymore. I only exercise and think positive and I spend a lot of my free time in the presence of God and I am cured. I have a private practice for counselling and have also helped many people with depression and every time it shocks me to see how little knowledge people have about depression. I even have a doctor who admitted to me that prescribing anti-depressants is the easy way out for him. Can you believe it? Thanks again." - Ada
How Will This E-book Benefit You?
Simply take this research and use it as a resource tool to ask your doctor the tough questions. That's what I did! I took this info and showed it to my doctor. Then with his permission, he guided me through it and it worked! This is yours to enjoy and to use as your motivator each day when you log on to your computer. Simply save it to your desk top.
Because it's instantly downloadable you don't have to waste precious time waiting for it in the mail.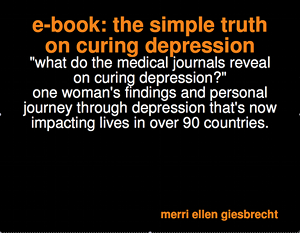 Get A Copy And Get Started Today
Thank you in advance for investing in your health and future!
Sincerely,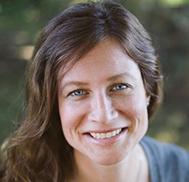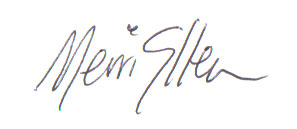 Merri Ellen Giesbrecht
There is hope! You are worth it!
Another Reader Shares Hope For You!
"There is Hope for all of us, if we take the necessary first steps. It's always that first step that is the hardest. But the reward on the other side of the spectrum awaits us all, and I want to get there desperately. Thanks again Merri Ellen! You are one magnanimous woman, an Angel I believe sent from Heaven Above!! I mean it. God Bless." - Eric
P.S. Come join the thousands in over 90 countries to date who have applied this research to beat their depression. Download the handbook here. The instructions are spelled out in plain English so you can start today.
There is hope! You are worth it!


Our Privacy Policy Contact Us Home