More FREE Articles, Tips and Tools for You!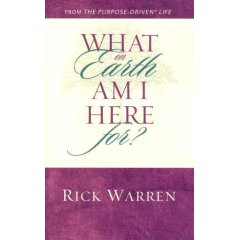 "What On Earth Am I Here For?" (Free Booklet)
The book "Purpose Driven Life" has been on the
New York Times
Best Seller list for advice books for 174 weeks (as of May 2006). The book offers readers a 40-day personal spiritual journey, and presents what Warren says are God's five purposes for human life on Earth. This is the first seven chapters for you!
Get the booklet for free (right click and save to desktop!)
"Praying With Confidence: Overcoming Disappointment in Prayer"
http://www.rbc.org/uploadedFiles/Bible_Study/Discovery_Series/PDFs/praying_with_confidence.pdf
(ebook file) ...or download from here:
http://www.rbc.org/bible_study/discovery_series/booklet/31039.aspx
"The Pursuit of Happiness"
http://www.oneplace.com/Articles/Print-Friendly.asp?article_id=1230
"How to Know God"
http://www.harvest.org/knowgod/
(Get a Free Copy of God's Word when you register).
"What does God's Word say about Depression?"
https://www.cure-your-depression.com/bible-verse-for-depression.html
"Do you want to read through the Word of God, but aren't sure where to start or how to go about doing so?"
http://www.biblegateway.com/resources/readingplans/
"How about some free Bible software?"
Visit:
http://www.e-sword.net
"Need help through counselling?"
https://www.cure-your-depression.com/online-counseling-for-depression.html
"Is There a Depression Virus? How Failing to Forgive Others and Ourselves Can Bring On Depression"
https://www.cure-your-depression.com/depression-virus.html
Visit our complete Depression Article library at:
https://www.cure-your-depression.com/depression-article-index.html
Don't forget to request your Free Report: 6 Ingredients to Cure your Depression which touches on the physical and emotional secrets to cure depression revealed by scientific research and used successfully by the contributors of this website.
To request this Free Report, go to https://www.cure-your-depression.com/depresion-viplist.html
Contact Me
Home