The Emotional Jug - Are you guilty of this?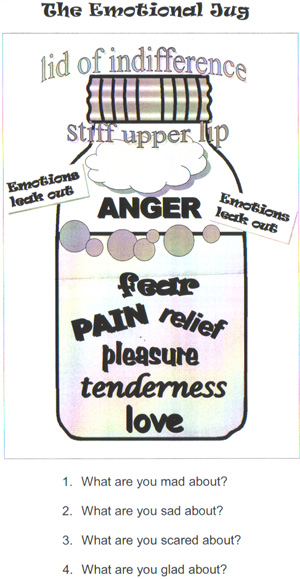 What's an 'emotional jug'? Someone once gave me a picture on a piece of paper of a jug stuffed with emotions like fear, anger, pain, relief, tenderness, pleasure, and love. The good emotions were all jammed into the jug at the bottom and the bad ones were on top... ready to explode. (Credit for the 'emotional jug' goes to the PAIRS Foundation. Reference used with permission. See bottom for more info.)
It's a picture of what can happen, if we don't properly listen to and handle our emotions. Our emotions get pushed down and we become emotionally damaged.
Emotional damage is another common cause of depression in our society.
We have layers of misconceptions brought on by family, culture and society, gender differences, religious institutions, etc.
Our lives are controlled by our emotions whether we admit it or not.
We must allow ourselves to feel our emotions. Listen to our body's physical signs. What is your body telling you? Example: tension headache, teeth grinding, stomach in knots, sweating, etc. These ailments are simply the result of emotions improperly expressed.
Become aware of your emotions and your health will benefit.
Ask yourself...
What am I sad about?
What am I mad about?
What am I scared about?
What am I glad about?
Action Steps:
1. One powerful thing I've learned is to journal your feelings. You'd be surprised at how effective this is to understanding your depression and where it is rooted. Start with the questions listed above.
2. Secondly, walk through the journey of expressing your emotions with a counselor. Feel free to connect with an online counselor... 
Do you journal your emotions? Tell us!


Source: 'Emotional Jug' / the PAIRS Foundation (www.pairs.com) You can also learn more from "Relationship Road Map"
Return to Home from Emotional Jug