More Than One Cure Depression Story to Encourage You...
(And even a chance to share your cure depression story below...)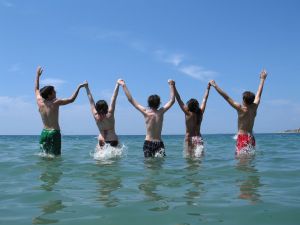 Cure Depression Story #1
"4 days ago, I couldn't get out of bed. I was desperate. I miraculously came across www.cure-your-depression.com and signed up…

The next day, I started to feel a little better… Yesterday, I was able to get up and stay up all day. That is a miracle…

And I told my Mental Health Counselor about my last 4 days. I gave her a copy of the E-Course and explained my progress over the past 4 days. She perused it and said, "This is very good literature. These are very important steps to recovery". She even kept it…

Well, my wife is saying dinner is ready....yep you guessed it, FISH, and steamed broccoli and a dry baked potato. Then later, the steamed milk, and the bedtime ritual; same time, same place… and its working.....thank you so much. It's working.

There is Hope for all of us, if we take the necessary first steps. It's always that first step that is the hardest. But the reward on the other side of the spectrum awaits us all, and I want to get there desperately. Thanks again Merri Ellen! You are one magnanimous woman, an Angel I believe sent from Heaven Above!! I mean it. God Bless. Eric"
Cure Depression Story #2
"Thank you for this site! I had been on most of the antidepressants over the past 30 years and had a severe reaction. I have been off meds now for 5 weeks. Am taking vitamins... along with some other ingredients, Omega-3 and a mixture of amino acids and trace elements. I also walk daily... I feel better now than I ever did on the meds. Take care, Anne"
Cure Depression Story #3
"This is an amazing website...you are sharing from your own pain and blessing others..the scripture about God only allows us to go through things to help others... is so lived out in your life! You are such a blessing..."
Cure Depression Story #4
"I am currently battling day to day with mild depression and decided to search for natural cures for it. I'm glad I found your site and I want to say thanks for sharing your story and for building a great website. Keep it up!!"
Cure Depression Story #5
"I was on Wellbutrin and Prozac until using your techniques… I haven't felt so good for so many consecutive days in 20 years... Thank you for your website and your incredible tips!!!"- Robyn
Cure Depression Story #6
"Thank you so much... I have suffered with depression several years, and right now I am not taking any medication at all." - Mary
Story #7
"Your web site is absolutely fantastic! We will refer all of our clients to your web site." -Anthony
Story #8
"I have learned a lot from your information and will try to put these things in to practice, concerning listening to my emotions because I know I have suffered from damaged emotions! Also, I do believe that we have to put into our bodies the right nutrition for right brain function, also a right attitude of life." –Elizabeth
Story #9
"As a licensed clinical social worker and a woman with a life-time history of depression, I really commend you the work you have done on this site. I especially appreciate that you are promoting discussion on the positive benefits of a natural approach to treating depression." -Robyn
Story #10
"I just want to thank you. These tips have really changed my life in less than a month. I honestly believe that God has brought this website over my path for recovery. The work you done is wonderful and a true inspiration. If I think where I was a few weeks back, I can't believe I am out of that hole. God will bless you for this wonderful work you are doing. You have inspired me so. Thanks again." - Ada.
Cure Depression Story #11
"I can only explain my gratitude by saying God must have brought you my way. I was just on the verge of requesting anti-depressants from my Dr. the day that I found your website In the most natural, helpful fashion your research, the way you've set up the e-course, all of it just fed me with the step by step solutions I had been longing for for months. I will always read your work, updates you provide, your service is priceless. Thank you, your work is such a blessing! " - Alysha
Cure Depression Story #12
"I have been depressed for most of my life, have read many books and articles have taught others about depression, have taken various antidepressant medications. I have begun taking your advice on how to overcome depression for just over a week now. I am encouraged at what i have read and i have put into practice what has been suggested.I have found that the research of Merri Ellen is very good, it is practical and makes common and medical sense.I fully agree that the medication is only part of the cure for depression, in that it takes away some of the worst symptoms of one's depression.The time to do something about one's depression is when the bad edge has been taken off.I have have started the process you recommend and i am encouraged at my progress so far.The research in my opinion is not realy new to myself but the big difference is that i have taken a decision to carefully put into practice what i have been told. So far so good and thank you for your advice.It has been a blessing to me." - Tony
Cure Depression Story #13
"Your website has enlightened me… my story must be heard -this is an incredible miracle. i have all the legal and legit documents to probe it..if u want to talk about my personal transformation,from being sick for 30 years,oblivious to the fact that something so small and not so talked about, can change somebody's life so dramatic that alot of people will be heal if they hear what i have to say. ENGLISH IS NOT MY FIRST LENGUAGE I STILL STRUGGLE TO PUT IN LETTERS MY FEELINGS AND EXPRESSIONS ,ANYWAYS I'M CONTACTING YOU BECAUSE AS YOUR READERS KNOW YOU WROTE,"6 POWERFULL STEPS TO CURE DEPRESSION" and maybe we can team up and and with my Life Story and your writing expertise we can help millions of people. God Bless You and the World! Sincerely, Bobby"
Cure Depression Story #14
"I tell everyone who will listen about your site as it has changed my life. Thank you for being such a warrior! Thank you for doing what you do. Thank you for your honesty, hard work and bravery. There is a saying in hebrew, "to save one life - it is as if you have saved the whole world". You have done a great service for many people. With gratitude and appreciation, H."
Cure Depression Story #15
" Dear Merri Ellen,

I offer you my heartfelt thanks! You have led me from a Dark Place, where I was stuck for years not wanting to continue, to a Bright Place. Here the colours are vivid, the sounds more acute, the future bright.

Oddly, I am having to adjust to this as familiar things are now unfamiliar but it is an exciting and agreeable process. I am on a steep learning curve!

I tried many other internet cures' without any success at all. You did it in 5 steps!

Thank you so very very much! May God bless you!

With my best wishes,

David"
Cure Depression Story #16
I had been suffering from depression for about two years and had tried anti-depressants with no avail. I was starting to resign myself to the fact that maybe there was no way of being happy, I just 'wasn't that kind of person'. Then i found this website. The steps provided are a long term, natural cure that help you pick out the problems and habits you have acquired that contribute to your depression. Within about ten days I felt better than I had ever felt in my life. It is a long road and I'm still finding my way to the end, but the tips on this website are life changing. Feeling happy and content again is more than worth the effort it takes. Thank you so much. - Kris
A friend of mine encouraged me to start sharing some more of the comments I get in my email from readers. So you've just read some of the comments I have received out of the thousands of emails.
You can contribute to our collection below and offer some hope to your fellow readers!
If you have gone through the e-course or handbook and it has positively impacted your life, I'd like you to tell me your story too! You can do so at the very bottom of this page.
I want to bring encouragement to our other readers who have not taken the first step yet. I want to invite you to join me in giving them hope!
Got some hope to share to encourage others who are suffering with depression?
Do you have some hope to offer? Share it!
What Other Visitors Have Said
Click below to see contributions from other visitors to this page...



Cure Depression E-Course

Back to Home from Cure Depression Story