"What to do when depression hurts those around you?"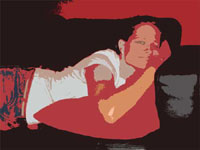 Depression hurts the lives of the depressed but also of those who love them...
If someone you love is hurting, what can you do? Not only must you take special care of them during this time, but you must also remember to care for yourself.
Caring for someone with depression can create an emotional strain affecting your relationship, your home atmosphere and even your work or career. Perhaps you may find yourself at the end of a rope not knowing how to cope yourself. You sometimes feel like walking away but even admitting this feels like you would betray them.
"As depression hurts your loved one, who are YOU talking to about it?"
Yes, it is extremely important for your hurting loved one to talk, talk, talk things out through therapy but are you doing this too? You need someone to listen to you too. Who can you turn to? Don't let this destroy you.
"Depression hurts YOUR thinking too."
Remember to care of yourself along the way and guard your own thoughts. As your loved one expresses negativity, this can rub off on you. Then, you too can start to slip into a negative thinking pattern. You become what you think about.
What do I mean? Negative thinking produces negative results, a negative self-esteem, a negative outlook on life and soon you slip into depression. To get out of this trap, read "The Emotional Jug" as well as our critical report: "6 Ingredients to Cure Depression" which can be applied by the helper as well. (See links below).
We understand that depression hurts the sufferer as well as the helper and that's why we decided to share our research and our story – to help both of you!
"5 Ways to Help a Loved One Suffering from Depression"
Download the free report.
Simply right click, choose 'save file as' and save it to your desktop.

Get more free helpful downloads when you request our "6 Steps Report" (opens in new window).


Related Articles To Encourage You
"The Emotional Jug - Are You Guilty Of This?"

"6 Powerful Ingredients to Cure Your Depression" (Opens in a new window)

"Need someone to talk to?"


Enjoy More Cure Depression Articles...
6 Steps Report on Curing Depression (What do the Medical Journals Reveal?) | What Depression Treatments Are Available? | Are There Natural Cures for Depression? | What Are The Symptoms of Depression?| What Are The Causes of Depression? | What Can I Do For My Postpartum Depression? | What Is Teenage Depression And Why Does It Happen? | What Self Help Can I Do for Depression Recovery? | How Best Do I Help A Loved One With Depression? | What Is Bipolar Depression? | Does Therapy Work For Depression Recovery? | What's The Buzz on Omega 3s for Depression? | Does Light Therapy Work for Depression Recovery? | Does Exercise Affect Depression? | How Safe is Depression Medication? | What Are Some Basic Depression Action Steps? | | Is There a Depression Diet I Can Use? | "5 Facts You Need To Know About Depression" | Tell us what your biggest question is. Help us help you! | Read more of our articles here...
Back to Home from Depression Hurts the Caregiver Too