"What To Do If You're Suffering from 'Baby blues' or Post Pardum Depression?"
You may be experiencing 'baby blues' or post pardum depression if you've recently given birth to a baby and you've been feeling abnormally tired, hopeless and worthless. Your hormonal and physical changes as well as your new responsibility as a mother can lead to depression.
"Thank you so much for all the articles I receive in my e-mails. They have helped me alot."

"Your web site is absolutely fantastic! We will refer all of our clients to your web site. "
We can't stress this enough…
These feelings are normal.
You will get well again.
This is treatable!
Here you will find some information to help you!
You don't need to feel embarrassed or keep silent about your dark feelings during this time with your new baby. Speak up and seek help. (You are already doing that by reading this website!) As you gain courage to understand and seek knowledge about post pardum depression, you can become healthy again.
Thousands of women experience the same feelings you are. If you find and treat your physical and emotional causes of your post pardum depression, you can find joy again!
Did you know?
Research has also found that soon after your delivery, your body temporarily suppresses adrenaline and there is a sudden drop in your estrogen levels which brings on those 'baby blues'. 1
What can you do to shake these blues?
Here are some helpful tips that we used to combat our post pardum depression...
Feed your mind! What you eat makes a huge impact on your mental health. This is so important to take seriously. Research has shown that what our mothers ate and their mothers ate and even their mothers ate affect our mental health. For so long we've been told that depression is hereditary or genetic when in fact, what we eat could break this cycle.
Scientists have learned that when certain amino acids are lacking in our diet, depression sets in. It may take several generations for offspring to deplete their brains of these essential amino acids. This is most likely why depression is on the rise in the United States and is severely low in places in other parts of the world. Read the full report below.

You need to take care of yourself and your family needs to give you emotional support during this time. Ask them to help you do household tasks like laundry, cleaning, making meals etc. Have food delivered by meals on wheels (This is nutritional and economical unlike most restaurant food).
If you are overwhelmed, it is important to seek out a support group of some kind whether it is from family, friends, your local church or a community group of mothers who have also suffered from post pardum depression in the past. Look in the yellow pages for such groups. Community is important for us all. No one can do this alone. Groups of mothers offer a place to share ideas, concerns, advice and even share baby stuff! If you cannot find such a group, please consider speaking with a counsellor. Look in the yellow pages for family counsellors or ask your doctor for a recommendation.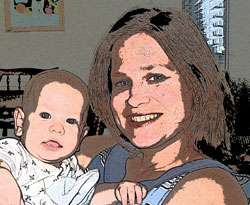 Enjoy your infant. Kiss her toes. Sing to her. Read to her. Enjoy her smile. You are now the most important thing in this world – a mother. I know you may not feel this way but you are special.
"It is not until you become a mother that your judgment slowly turns to compassion and understanding." -Erma Bombeck
Get outside! Put your baby in a stroller and take a walk around the block. The fresh air, and sunshine will do you and your baby a world of good. "I forced myself to get outside for a walk for at least 15-30 min a day. Not only did I lose the weight, it relieved me of my post pardum depression." - one mother shares.
If going for a walk is just too much for you right now, then just go outside, take a deep breath, and sit in the sunshine for a few minutes. It will help.

Sleep when the baby sleeps. To fight fatigue and post pardum depression, you must get your rest! Who cares if the house is not immaculate.
"I'm crazy tired. I feel as stressed out by exhaustion as someone who spent time in Vietnam", writes Anne Lamott, author of Operating Instructions (her journal of the first year of her son's birth) as she describes the post pardum experience in her memoir. This is an excellent book by the way. It shows you that you are not alone in your postpartum experience. Give it a read. You'll laugh and cry (good tears).
Simplify your life. Take it easy. Do the laundry later! Have food delivered as mentioned above. Let the answering machine do its duty. If you're on maternity leave, banish all thoughts of work that awaits you at the office. Don't worry — you'll get back on track soon enough. Just enjoy yourself and your baby. I know its hard but your baby will not last a baby and the work will always be there! For now, take care of yourself. You are worth it. YES, you ARE. (Just had to stress this, forgive me.)

"How can you fight your postpartum depression?"
Research reveals that there are 6 major ingredients that must be present in your life to combat post pardum depression. For example, one of them includes essential nutrients that must be present in your diet especially after pregnancy and are most likely missing due to our deficient modern diets and lifestyle. After suffering from post pardum depression ourselves, we took action, did some research ourselves and now we share this info for all to read. We hope you benefit like we did! Read the full report here.


Related Articles
"Why am I such a terrible mother?" A Mother Cries Out In Her Post Pardum Depression

How to Help a Friend Going Through Postpartum Depression (pdf download) - right click and save to your desktop.

Need to talk about your Postpartum Depression Symptoms? Visit a help line here...
Back to "Postpartum Depression Symptoms"


---
Post Pardum Depression Resources:
1 Chrousos GP, Torpy DJ, Gold PW. Interactions between the Hypothalamic-Pituitary-Adrenal Axis and the Female Reproductive System: Clinical Implications. Ann Int Med 1998;129(3):229-240.
2 Morales AJ, Nolan JJ, Nelson JC, Yen SS. Effects of replacement dose of dehydroepiandrosterone in men and women of advancing age. J Clin Endocrinol Metab 1994;78(6):1360-7.
3 Wolkowitz OM, Reus VI, Roberts E, Manfredi F, Chan T, Raum WJ, et. al. Dehydroepiandrosterone (DHEA) treatment of depression. Biol Psychiatr 1997;41(3):311-318.