My Depression Story And How It Can Help You And Your Loved Ones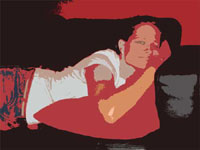 My depression story...
From: Merri Ellen Giesbrecht

Dear friend,
Now over 20 years ago, I remember sitting on my couch unable to form any words with my mouth. My husband asked me questions and I could only muster up enough strength to look back at him with a look of...  
"Why don't you just kill me now?" 

I couldn't speak. I was so emotionally exhausted and mentally burnt out from suffering from depression and on the verge of suicide. Sadly, in my case, anti-depressants made things worse and the suicidal thoughts increased. I could not sleep and would get up in the middle of the night to stare out the window in darkness. 
I was completely lost.
Finally, one morning at 3am in the midst of my tears, I had a bizarre  experience, that I would describe as a divine encounter, that impacted me so deeply. It gave me a new hope and drive to search out the truth on how to get out of the black cloud of depression.
I also got a strong sense of my future helping others. (It's incredible looking back and remembering this now.) I saw a vision of my journey impacting an entire nation. (To date, we've reached over 2 million students who have signed up in over 120 countries.)
I began to research answers for curing depression with this new drive and ambition. I read the medical journals like crazy to learn for myself what was actually scientifically proven to cure depression. I was shocked at what I found. 
It wasn't at all what my doctor had initially recommended. It was relatively simple, natural, super inexpensive, and sadly unknown.
I took it all to my doctor. When he saw I had done my research with medical journals in hand, was serious, and had the support of my family, I applied it - with his supervision. (I feel like my journey wonderfully shocked and educated him.)
I was miraculously out of the woods in a matter of weeks and feeling completely free and normal in a couple months without any medication! 
A faithful friend who had come over to my house to check in on me and clean my bathroom when I was at the lowest, could not believe the transformation in me.
We were having coffee and as we visited, we realized how many people we loved were suffering with depression too. My friend encouraged me to share my story. So, in 2003, I put this website together and it quickly gained traffic. I had NO idea it would quickly reach 120 countries averaging 15,000 - 20,000 visitors per month in the beginning.
I began to get emails from all over the world!
I love hearing how my readers apply the research with their doctor's consent and find new joy and freedom from depression too!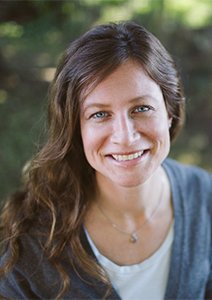 I have now come out of my pit and these days look out of my window excited about life. When my husband talks to me, I am excited to answer!
Fast forward to the present:
I have been coaching people since 2003 out of depression and later became a Certified Life Coach & Spiritual Director.
My passion is for life. My joy is found in living and in especially helping others find joy out of depression!
(In fact, my friends and clients comment on my hearty laugh all the time!)

Here's a message I once received from someone who referred a young adult to me...

"Just got a phone call from the mom of your 11 am appointment - she is wondering what you did with her daughter? And just who is this girl you sent back to her?!? Ha ha! We wept together!! As she shared her experience post appointment!! Oh so beautiful my mama's heart rejoices! The highlight comment she made - 
"Mom! Merri Ellen even laughs!!!" "
Today, I have the joy of coaching people around the globe out of depression and into joy!
Once you fall into a pit of depression, it can be VERY hard to get out. But, it is possible and you need to be shown the way. I had friends, family and research to guide me. Here's my input to help you along your own journey through your depression story and how to turn it to joy.
Click the button below to learn more about the research that saved my life... :)
There is hope! You are worth it! 

---

Or click here to learn more about my private coaching...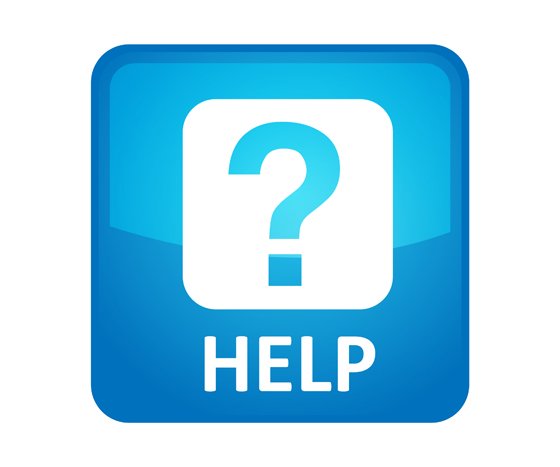 Review: "How did this site on my depression story come to be?"
The idea for this website, on sharing with you my successful depression recovery story, as mentioned above, began after having coffee with a friend and months after recovering. She had been a loyal friend giving me strength throughout my journey back to joy. She asked me,
"Wow, you've come a long way! What exactly helped you get out of depression?"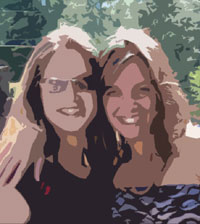 Carleigh and Me :)
The more we talked, the more I realized I needed to share my story. Perhaps I could share hope with others around the world!
I've collected this info in this website FOR YOU!
I initially experimented with the research for my own depression desperate to beat it!
You can take my depression story and research – and learn how to defeat your depression. (I hope that what you'll find here will save you hundreds of dollars in unnecessary treatment.)
Here I share with you what I've learned to prevent my depression story from ever happening again.
Been there, done that, why do it again?

"Where do you start?"
1. Enjoy the easy to read and understand report: 6 Key Ingredients to Cure Your Depression

(I translated the research into PLAIN English so you and I can understand!) Along with it you will receive worksheets to help track your progress!
2. Need help? From home, you can ask a counselor your question on depression!
3. Enjoy the valuable depression article library where you will enjoy more depression articles.
4. Jump in and join our forum community to encourage others going on the journey along with you!
5. Sign up for more Depression Tips Updates. Get a free copy of "What Everybody Ought to Know About Depression" (29 Most Frequently ANSWERED Questions on Depression) just for signing up.
What people are saying...
"Your web site is absolutely fantastic! We will refer all of our clients to your web site." –Anthony
"Can you trust what you read here?"
I cite every source for our medical sourced information. I take your mental health seriously and so we provide the info sources for you so that you can go to your doctor with confidence.
Remember I am not your doctor! This site gives info so that when you go to your doctor, you have all the right questions to ask!
Beating depression requires you getting the knowledge. You cannot be diagnosed online but you MUST learn all you can before you go to your doctor with questions.
"My mission is to help others find hope, joy and peace; to bring healing to individuals, families and our communities by impacting their mental, emotional, physical and spiritual health."
---
>> Read a successful depression story - what worked for us!

Learn about how we got to be in the top 3 on Google!

Back to Home from Our Depression Story
Follow Facebook Updates with a Cure Depression Story or 2 from time to time...