"My Depression Story And How It Can Help You."
From: Merri Ellen :)
Dear friend,
What's my depression story? I remember not so long ago sitting on my couch unable to form any words with my mouth. My husband asked me questions and I could only muster up enough strength to look back at him with a look of "why don't you just kill me now?" I couldn't speak. I was so emotionally exhausted and mentally burnt out from suffering from depression. I could not sleep and would get up in the middle of the night to stare out the window in darkness. I was completely lost.
That seems like ages ago but it wasn't... (The archive video below refers to over 50 countries. Update: now over 110 countries have accessed this website!)
I have now come out of my pit and these days look out of my window excited about life. When my husband talks to me, I am excited to answer! My passion is for life. My joy is found in living and in especially helping others find joy out of depression!
Once you fall into a pit of depression, it can be VERY hard to get out. But, it is possible and you need to be shown the way. I had friends, family and research to guide me. Here's my input to help you along your own journey through your depression.

"How did this site on my depression story come to be?"
The idea for this website- on sharing with you my successful depression recovery story- began after having coffee with a friend and months after recovering. She had been a loyal friend giving me strength throughout my journey back to joy. She asked me,
"Wow, you've come a long way! What exactly helped you get out of depression?"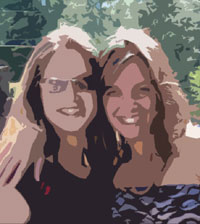 The more we talked, the more we realized that many of our friends and family members were going through the same thing and NEEDED to hear my depression story and what HELPED ME! (Depression is more common than we initially realize!) Perhaps we could help people around the world!
I found and interviewed other former depression sufferers to learn their depression story. I've heard from business professionals, doctors, moms, and dads who had similar successful stories and I've collected this info in this website FOR YOU!
This site with my story has been created for you with the help of every day people each with their own depression story and each with a happy ending. They are moms, college students, teens, business professionals...
I initially experimented with the research for my own depression desperate to beat it!
You can take my story and research – and learn how to defeat your depression. (I hope that what you'll find here will save you hundreds of dollars in unnecessary treatment.)
Here we share with you what we've learned to prevent it from ever happening again.
Been there, done that, why do it again?
"Where do you start?"
1. Enjoy our easy to read and understand report: 6 Key Ingredients to Cure Your Depression

(We translated the research into PLAIN English so you and I can understand!) Along with it you will receive worksheets to help track your progress!
2. Need help? From home, you can ask a counselor your question on depression!
3. Enjoy our valuable depression article library where you will enjoy more depression articles.
4. Jump in and join our forum community to encourage others going on the journey along with you!
5. Sign up for my Depression Tips Updates. Get a free copy of "What Everybody Ought to Know About Depression" (29 Most Frequently ANSWERED Questions on Depression) just for signing up.
What people are saying...
"Your web site is absolutely fantastic! We will refer all of our clients to your web site." –Anthony
"Can you trust what you read here?"
We cite every source for our medical sourced information. We take your mental health seriously and so we provide the info sources for you so that you can go to your doctor with confidence.
Remember I am not your doctor! This site gives info so that when you go to your doctor, you have all the right questions to ask!
Beating depression requires you getting the knowledge. You cannot be diagnosed online but you MUST learn all you can before you go to your doctor with questions.
"My mission is to help others find hope, joy and peace; to bring healing to individuals, families and our communities by impacting their mental, emotional, physical and spiritual health."
---
>> Read about our successful depression story - what worked for us!

Learn about how we got to be in the top 3 on Google!

Back to Home from Our Depression Story