How To Use The Positive Thinking Phrases Jar To Beat Depression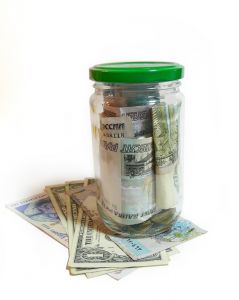 Here's a little tip called the "Positive Thinking Phrases Jar" which I'd like to pass on to you- it uses positive thinking statements to retrain your thought patterns and say good bye to depressive thinking.
You'll note that my picture is a jar of money. Well this exercise is better than money in a jar because of the return on your investment!
Here's where the story starts...
Just last night I was reminded of this technique which I had long forgotten. It goes back to over fifteen years ago back when I was in high school. I kind of came up with it on my own when a close friend of mine was struggling with depression. (Huh, I was already helping others deal with depression back then and never knew it.)
I remember she was fighting off some depressive thoughts about herself. After all, she was a teen herself and just trying to figure out who she was and why she existed. Looking back she was indeed suffering from perhaps a mild episode of teen depression. The sad thing was she was an awesome girl with musical talent, a heart for people and a desire to make good choices in her life. She was a good kid and I was proud to call her my friend.
What did I do to encourage her?
Here's where the "Positive Thinking Jar" comes in. I decided to get an old jar that my mom had used to put homemade jam in. After the jam was all gone, I cleaned it out. Then, I cut up little strips of paper and on them I wrote down some positive thinking phrases to help her to start thinking positive.
(I did this because I knew she especially depended on positive verbal feedback.)
What did I write?
I wrote down things I appreciated about her. I wrote down positive thinking quotes and inspirational quotes and verses from the best selling book of all time (and for good reason)- the Bible. (Read through the book of Proverbs someday to get started. There's some great things in there!)
Last night my friend from high school called me! I haven't seen her for over seven years! (We lost track of each other after I went through my own depression and dropped off the face of the earth.)
Guess what?
She still has that jar!
She said she's hung on to it ever since. I couldn't believe it! She valued the exercise so much that she's hung on to it for over fifteen years!
Then it hit me, what a great exercise I should share with you!
Here's what to do…
Clean out a jar. Cut out strips of paper. Write down the compliments you have gotten from friends or family over the years. (You may initially think there's nothing to write down but that's your negative thinking taking control of you. Don't let it.)
You could also ask your closest friend or relative help you with this exercise. It would take courage to ask them, I know but if they know you're hurting and need some encouragement, they should be honoured to help.
Write down some of your favourite positive thinking quotes, positive thinking phrases and inspirational quotes and verses.
Then put them in the jar.
Every day pull a piece of paper out and read it!
Do this for thirty days.
You will begin to see the black clouds lift as you go through this exercise and as you implement the steps outlined in our handbook.
There you go!
Enjoy my little "Positive Thinking Phrases" Jar exercise!
Write to me to tell me how it goes!
There is hope! You are worth it!
Merri Ellen
Post a Comment
You've got some thoughts to share, I know it...
What Other Visitors Have Said
Click below to see contributions from other visitors to this page...

I had the exact same idea as you! Not rated yet
My friend is also going through some bad times right now, and today I remembered that I had seen something a bit like this and I thought she would like …