"What is the cause of depression
(and what to do about it)?"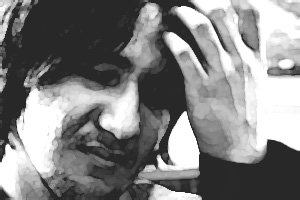 What truly is the cause of depression in our society today? If you've asked this question, you may have gotten a response like a 'chemical imbalance' or 'you were born with a depression gene'.
Did you know there is more than one cause of depression? Basically there are 4 areas of our lives, if not properly taken care of, can bring us towards depression.
Sadly, our modern world makes it extremely easy to neglect who we are. We were created for so much more, but we aren't any where near achieving our potential – that's why we feel that empty, lost feeling inside us. We are like Ferraris parked in the garage and taken out for a slow drive every once in awhile.
Our engines could really purr if only we could understand what our bodies, hearts and minds could really do and how to look after them. We're like an expensive pair of shoes that have been worn only once and then forgotten in the bottom of someone's closet.
All this can change for you. Depression is treatable!
"So, what are the 4 main areas in our lives that (if neglected) can be the cause of depression?"
What is your cause of depression? There are 4 main areas of your life that it could stem from...
You may be experiencing hunger in one or more of the following areas...
*Your physical health (eating, exercising, sleeping).
*Your emotional health (damaged emotions due to past).
*Your mental health (self-talk, thought programming).
*Your spiritual health (lack of understanding God's love for you and His desire for your abundant life).
We are beings that have these 4 parts whether we realize it or not. If one area is not properly cared for, we easily become depressed.
To understand your cause of depression,
this is just the beginning…
Physically, if you are not eating, sleeping and exercising properly, your body breaks down and your mind included. This can easily become a cause of depression.
Emotionally, if you are not listening to your emotions or allowing yourself to properly express your emotions safely (such as bitterness, disappointment, rejection, etc.) – then you can easily become depressed.
Mentally, if you have programmed your self-talk to be negative, you are only asking for depression. How do you talk to yourself? How do you view yourself? For example, if you are living a rushed life, on the road to burnout, your self-talk can easily become negative and you become too hard on yourself.
Spiritually, if you are not spending time quietly away from the rat race to be with your loving Creator, to gain an understanding of who you truly are - a valuable being created with a purpose, then you can easily become depressed in this way too.
Well, that is an EVER so brief explanation on the causes of depression...
"So, HOW DO we look after our physical, emotional, mental and spiritual health to avoid any cause of depression?"
Here we include medical research, and our own success stories to help you understand and find an answer for your specific cause of depression.
"Where do you start?"
1. Enjoy our thousands of hours of research in our easy to read and easy to understand report: 6 Key Ingredients to Cure Your Depression
(We basically read medical journals and then translated the research into PLAIN English so you and I can understand!) Along with it you will receive worksheets to help track your progress!
2. Then move on to our valuable depression article library where you will enjoy more of our depression articles filled with hope and medical research that you can easily implement.
3. Finally, don't forget to subscribe to our regular updates. There are two ways to do this. You can sign up for our RSS Feed or if you prefer email, subscribe to our email newsletter. You will be notified of updates to our research as well as motivational and inspirational tips to help you along the way! We are continually adding new material to help you!
What people are saying...
"Your web site is absolutely fantastic! We will refer all of our clients to your web site." –Anthony

To your health! There is hope! You are worth it!
Merri Ellen,
Editor, Researcher
www.cure-your-depression.com
Share our website with a friend or two.

>>Share our website with a friend and pass on some hope.
Enjoy More Cure Depression Articles...
6 Steps Report on Curing Depression (What do the Medical Journals Reveal?) | What Depression Treatments Are Available? | Are There Natural Cures for Depression? | What Are The Symptoms of Depression?| What Are The Causes of Depression? | What Can I Do For My Postpartum Depression? | What Is Teenage Depression And Why Does It Happen? | What Self Help Can I Do for Depression Recovery? | How Best Do I Help A Loved One With Depression? | What Is Bipolar Depression? | Does Therapy Work For Depression Recovery? | What's The Buzz on Omega 3s for Depression? | Does Light Therapy Work for Depression Recovery? | Does Exercise Affect Depression? | How Safe is Depression Medication? | What Are Some Basic Depression Action Steps? | | Is There a Depression Diet I Can Use? | "5 Facts You Need To Know About Depression"
Tell us what your biggest question on depression is. Help us help you!
Read more of our articles here...