"Vitamin B12 and Depression – For some of you, it's that simple."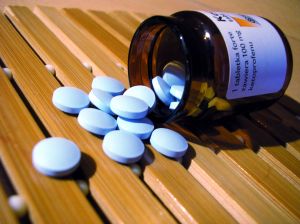 Scientists have discovered a link between a lack of Vitamin B12 and depression. Once I discovered this, I began taking Vitamin B supplements to boost the effectiveness of my 5 HTP supplements. (The research, by Kuopio University in Finland, is published in the journal BMC Psychiatry.)

Vitamin B12 is a type of B vitamin. You can find it in fish, eggs, meat, poultry and milk and milk products.
Because vitamin B12 is important to red blood cell formation, lacking in it leads to an reduction in much needed oxygen in your blood. This disorder can cause mood swings, paranoia, irritability, confusion, dementia, hallucinations, or mania, eventually followed by appetite loss, dizziness, weakness, shortage of breath, heart palpitations, diarrhea, and tingling sensations in the extremities.
Your liver can hold onto a 3 to 5 year supply, thank goodness. So, if your body is lacking Vitamin B12, it has taken this long to run out. Yikes, what have you been eating?
Talk to your doctor about taking Vitamin B12 and depression may lift!
About.com has some more great info too.
Enjoy More Cure Depression Articles...
6 Steps Report on Curing Depression (What do the Medical Journals Reveal?) | What Depression Treatments Are Available? | Are There Natural Cures for Depression? | What Are The Symptoms of Depression?| What Are The Causes of Depression? | What Can I Do For My Postpartum Depression? | What Is Teenage Depression And Why Does It Happen? | What Self Help Can I Do for Depression Recovery? | How Best Do I Help A Loved One With Depression? | What Is Bipolar Depression? | Does Therapy Work For Depression Recovery? | What's The Buzz on Omega 3s for Depression? | Does Light Therapy Work for Depression Recovery? | Does Exercise Affect Depression? | How Safe is Depression Medication? | What Are Some Basic Depression Action Steps? | | Is There a Depression Diet I Can Use? | "5 Facts You Need To Know About Depression"
Tell us what your biggest question on depression is. Help us help you!
Read more of our articles here...
---
Sources for Vitamin B12 and Depression:
http://depression.about.com/cs/diet/a/vitamin.htm
1. Fava M, Borus JS, Alpert JE, Nierenberg AA, Rosenbaum JF, Bottiglieri T. Folate, vitamin B12, and homocysteine in major depressive disorder. Am J Psychiatry. 1997 Mar;154(3):426-8. 2. Morris MS, Fava M, Jacques PF, Selhub J, Rosenberg IH. Depression and folate status in the US Population. Psychother Psychosom. 2003 Mar-Apr;72(2):59-60.
Nutr Rev 1996 Dec;54(12):382-90 Folate, vitamin B12, and neuropsychiatric disorders. Bottiglieri T
Kimberly H. Courtwright and Joseph W. Summers Institute of Metabolic Disease, Baylor University Medical Center, Dallas, Texas, USA.
Med Hypotheses 1991 Feb;34(2):131-40 Dommisse J
Prog Neuropsychopharmacol Biol Psychiatry 1989;13(6):841-63 Folic acid and psychopathology. Young SN, Ghadirian AM Department of Psychiatry, McGill University, Montreal, Quebec, Canada.
Biol Psychiatry 1989 Apr 1;25(7):867-72 Folate, B12, and life course of depressive illness. Levitt AJ, Joffe RT Department of Psychiatry, University of Toronto, Ontario, Canada.
http://www.psycom.net/depression.central.folate_B12.html